Tom Batiuk and Chuck Ayers
| Filed under:
Black Squirrel Books
,
Humor
,
Sports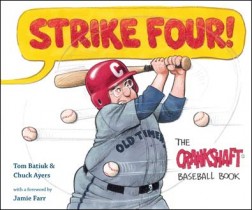 The Toledo Mud Hens—a farm team for the Detroit Tigers—once had a budding pitcher named Ed Crankshaft. At least that's how partners in cartooning, writer Tom Batiuk and artist Chuck Ayers, scripted the main character in Crankshaft. This enjoyable volume collects all of Crankshaft's baseball-themed exploits. Fans will enjoy revisiting Crankshaft's reminisces about his minor league pitching career and his comic attempts to recapture his youthful successes on the diamond.
---