Charlie W Starr
| Filed under:
Fresh Insights into Modern British Literature
,
Literature & Literary Criticism
,
Recent Releases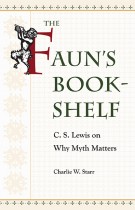 While visiting with Mr. Tumnus in The Lion, the Witch and the Wardrobe, Lucy Pevensie notices a bookshelf filled with such titles as Nymphs and Their Ways and Is Man a Myth? Beginning with these imaginary texts, Charlie W. Starr offers a comprehensive study of C. S. Lewis's theory of myth, including his views on Greek and Norse mythology, the origins of myth, and the implications of myth on thought, art, gender, theology, and literary and linguistic theory. For Lewis, myth represents an ancient mode of thought focused in the imagination—a mode that became the key that ultimately brought Lewis to his belief in Jesus Christ as the myth become fact.
---