Amy Amendt-Raduege
| Filed under:
Literature & Literary Criticism
,
Tolkien, Lewis, and Inkling Studies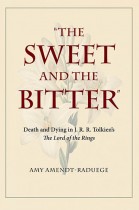 In 1956, J. R. R. Tolkien famously stated that the real theme of The Lord of the Rings was "Death and Immortality." The deaths that underscore so much of the subject matter of Tolkien's masterpiece have a great deal to teach us. From the heroic to the humble, Tolkien draws on medieval concepts of death and dying to explore the glory and sorrow of human mortality. Three great themes of death link medieval Northern European culture, The Lord of the Rings, and contemporary culture: the way in which we die, the need to remember the dead, and above all the lingering apprehension of what happens after death. Like our medieval ancestors, we still talk about what it means to die as a hero, a traitor, or a coward; we still make decisions about ways to honor and remember the departed; and we continue to seek to appease and contain the dead. These themes suggest a latent resonance between medieval and modern cultures and raise an issue not generally discussed in contemporary Western society: our deeply rooted belief that how one dies in some way matters.
---