Allan Pinkerton
| Filed under:
Black Squirrel Books
,
Classic Detective Stories
,
Criminal Investigation
,
Recent Releases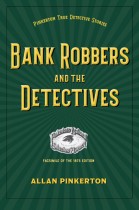 Upon receiving a telegram that reads, "First National Bank robbed, please come, or send at once" from Thomas Locke in Somerset, Michigan, Pinkerton sets off to investigate the crime. After journeying to the quaint town in a blizzard, the detective learns that $65,000 of treasury bonds, notes, and cash had disappeared from the bank's vault overnight. Only one man knew the combination: the bank's cashier, Mr. Norton. When Pinkerton's subsequent examination of the crime scene reveals no signs of forced entry, it starts to look like Mr. Norton committed the crime.
---