James Jessen Badal
| Filed under:
Black Squirrel Books
,
True Crime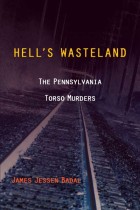 Did the Mad Butcher of Cleveland also strike in Pennsylvania?
From 1934 to 1938, Cleveland, Ohio, was racked by a classic battle between good and evil. On one side was the city's safety director, Eliot Ness. On the other was a nameless phantom dubbed the "Mad Butcher of Kingsbury Run," who littered the inner city with the remains of decapitated and dismembered corpses. Never caught or even officially identified, the Butcher simply faded into history, leaving behind a frightening legend that both haunts and fascinates Cleveland to this day. In 2001 the Kent State University Press published James Jessen Badal's In the Wake of the Butcher: Cleveland's Torso Murders, the first serious, book-length treatment of this dark chapter in true crime history. Though Murder Has No Tongue: The Lost Victim of Cleveland's Mad Butcher—a detailed study of the arrest and mysterious death of Frank Dolezal, the only man ever charged in the killings—followed in 2010.
---