Paul Taylor
| Filed under:
Civil War Era
,
Civil War in the North
,
U.S. History
,
Understanding Civil War History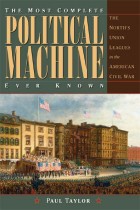 In "The Most Complete Political Machine Ever Known," Paul Taylor examines the Union League movement. Often portrayed as a mere footnote to the Civil War, the Union League's influence on the Northern home front was far more important and consequential than previously considered. The Union League and its various offshoots spread rapidly across the North, and in this first comprehensive examination of the leagues, Taylor discusses what made them so effective, including their recruitment strategies, their use of ostracism as a way of stifling dissent, and their distribution of political propaganda in quantities unlike anything previously imagined. By the end of 1863, readers learn, it seemed as if every hamlet from Maine to California had formed its own league chapter, collectively overwhelming their Democratic foe in the 1864 presidential election.
---