Allan Pinkerton
| Filed under:
Black Squirrel Books
,
Classic Detective Stories
,
Criminal Investigation
,
Recent Releases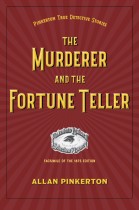 Captain J. N. Sumner from Springfield, Massachusetts, hires Pinkerton to help solve a crime involving his sisters and the deed to a family farm. His younger sister Annie falls under the charms of a married man, Mr. Pattmore, who promises to marry Annie once his wife and her brother are out of the way. Captain Sumner possesses an opal ring with a stone that appears to foretell events. After suddenly falling violently ill, he becomes convinced his sister is trying to poison him to get his fortune and, more importantly, his ring.
---