John J. Grabowski and Lauren R. Pacini
| Filed under:
Black Squirrel Books
,
History
,
Recent Releases
,
Regional Interest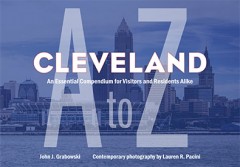 Cities around the globe, whether large or small, have characteristics that create a particular identity. So what about Cleveland? What are its nuances, its images? In addressing that question, Cleveland A to Z is not a typical city guide. Rather than concentrating solely on the usual topics—landmarks, restaurants, shopping, and notable facts—this guide touches on deeper themes related to Cleveland's people, places, stories, and events. These 72 short articles reveal details about the city's rich history, while also hinting at the issues, attitudes, and even the quirks that define Cleveland's character. Cleveland A to Z truly serves as an entry point for a fuller exploration of the city's history.
---