William F. Touponce
| Filed under:
Literature & Literary Criticism
,
Science Fiction and Fantasy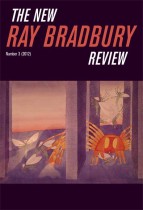 The New Ray Bradbury Review is designed principally to study the impact of Bradbury's writings on American culture and is the chief publication of The Center for Ray Bradbury Studies—the archive of Bradbury's writings located at Indiana University-Purdue University, Indianapolis. Like its pioneering predecessor, the one- volume review published in 1952 by William F. Nolan, The New Ray Bradbury Review contains articles and reviews about Bradbury but has a much broader scope, including a thematic focus for each issue. While Bradbury's effect on the genres of fantasy, horror, and science fiction is still being assessed, there is no doubt about his impact, and to judge from the testimony of his admirers, many of them now professional writers themselves, it is clear that he has affected the lives of five generations of readers.
---