Roger Pickenpaugh
| Filed under:
Award Winners
,
Civil War Era
,
Civil War in the North
,
Military History
,
Understanding Civil War History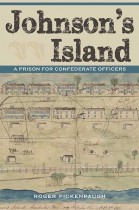 In 1861, Lt. Col. William Hoffman was appointed to the post of commissary general of prisoners and urged to find a suitable site for the construction of what was expected to be the Union's sole military prison. After inspecting four islands in Lake Erie, Hoffman came upon one in Sandusky Bay known as Johnson's Island. With a large amount of fallen timber, forty acres of cleared land, and its proximity to Sandusky, Ohio, Johnson's Island seemed the ideal location for the Union's purpose. By the following spring, Johnson's Island prison was born.
---